Prepare to unleash the true potential of your team.
Over the past dozen years, our consultants have worked with teams across North America to improve team performance.
Our Five Dysfunctions of a Team Training & workshop is based on the Patrick Lencion's powerful best-selling book.
For those willing to do the work, get vulnerable, engage in conflict, commit, engage accountability and focus on results, we can help open the door to enhanced team performance.
For those who commit to the process and follow-up, the transformation is profound.

Patrick Lencioni is absolutely correct. — "Great teams do not hold back with one another. They are unafraid to air their dirty laundry. They admit their mistakes, their weaknesses, and their concerns without fear of reprisal."
You and your team cannot afford to be average. Your legacy absolutely will not tolerate average.
Strengthen your team by Eliminating the Five Dysfunctions of a Team
Fact… Team dysfunctions never sort themselves out. They end up costing teams and their companies incredible amounts of wasted resources, time, morale, and unnecessary turnover.
Fact… Teams that do not work together lose more often. Synergies are lost. Jockeying for position wastes valuable time, energy, and resources.
High-performing teams realize they must do the necessary work on an ongoing basis to ensure they are maximizing their true potential.
Improve Team Focus and Take Back Control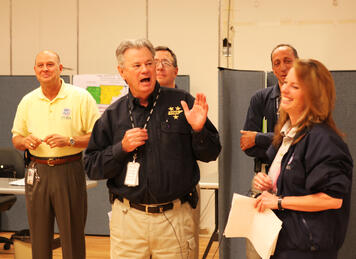 If you truly intend to take back control — to maximize team performance, you must wage an all-out war against team dysfunction.
Now is precisely the time to step up. Now is the time to change individual and collective mindsets regarding one another and how your team works together.
Our powerful Five Dysfunctions of a Team Training & Workshop process...
What gets measured gets improved... Our edge... Is our passion and our process.
We begin with the Five Dysfunctions of a Team Assessment Report (TAR) to discern precisely where your team can improve. We assess Behavioral Style and Driving Forces (Motivators) of each team member and through a debrief provide one-on-one awareness. We use the same assessment results during the Five Dysfunctions of a Team Training & Workshop to create additional self as well as interpersonal awareness.
The results often astound.
Call 701-369-4949 to learn more.